I just went down to my local bakery to get a donut and coffee to celebrate the publication of my latest book, The Strange Reincarnation Of Lucinda Tarne, when my fiction and my reality crashed into each other. It was an OMG moment for sure! I met Yori 02 and his friends, either waiting for a train, or a danish. (See pic)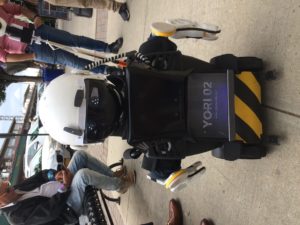 Without giving too much away, let me tell you that the book is about the development of an artificial intelligence from a fortune telling arcade machine, through the open source iCub project for universities, and into the sci-fi future of VIA Inc's (think Apple) Wonderball replacement for Alexa. Lucinda Tarne's unexpected reincarnation is the plot twist. The fragments of the sequel, tentatively titled Wonderball Apocalypse, are already running rampant through my mind. The 'Apocalypse' should give you a hint at why meeting Yori 02 on the sidewalk in my hometown freaked me out!
My first book was The Fifth Prophet. If I am a prophet, it is an uncomfortable profession. Has my writing crossed over the edge of reality, blurred the boundary between science and fiction? Was the meeting a simple coincidence, or something more?